El ogro. Video installation
Video installation: mural painting and video
Duration: 5'30" min
Spanish Language
Original Format: Video HD
Projection format: DCP 2K Estereo
Production: Javier Codesal © 2019 España
Drawings, edition and production: Javier Codesal.
# The project consists of the video installation «El ogro» and an artist's book also entitled «El ogro».
The walls of the room are painted with the bands of the LGTBI flag interpreted in grayscale, based on the flag proposed by the artist Pepe Miralles and the participants in the study Effect of a Force Applied Suddenly (IVAM, 2018-2019) , which added a black stripe to the conventional colors in memory of AIDS victims and to represent HIV-positive people.
In the central part, a B/W video is projected in which five phrases from different authors about desire, love, violence and tenderness follow each other. The phrases have been drawn on paper and move horizontally on the screen. The work combines drawing, text, video and installation in an ambiguous poetics of the sexual relationship.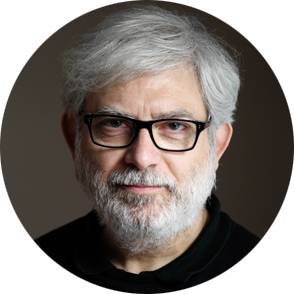 Director Bio
Javier Codesal (Sabiñánigo, Huesca, 1958) has a degree in Visual and Hearing Image Sciences from the Complutense University of Madrid.
Considered one of the pioneers of video art in Spain, his interest in the body and music stand out in his career – present in productions as different as' Centauro ',' Sábado legionario ',' Los remotos paises de la pena 'or the exhibition' Ponte el cuerpo'-, the approach to themes such as pain, death or illness – for example, through the series 'Dias de Sida' – and a series of portraits that includes 'La habitación de rada' (on the Balkan War), 'Mario y Manuel', 'Portrait of Francisco del Río' or 'Mayte'. Two of his other artistic facets are regularly reflected in his works and installations: poetry and drawing.